Plenary Speakers

Yunjie Liu
A Member of the China Academy Engineering
Purple Mountain Laboratories, China
Liu Yunjie, a Member of the China Academy Engineering, is now the Director of Purple Mountain Laboratories, Director of Jiangsu Future Networks Institute, and Head of School of Information and Communication Engineering in Beijing University of Posts and Telecommunications (BUPT). He was honored a Special Contribution Award for "Persons of the Year 2014 for China's Internet". Mr. Liu took a leading role in the design, construction and operation of the national public data network and high-speed broadband, which laid an important foundation for the construction of information society in China. He has received a first grade National Prize for Progress in Science & Technology, and twice received the first grade Ministerial Prize for Progress in Science & Technology.
Speech Title: Challenges and Technique Trends for Future Networks
Abstract: It is expected that by 2030, the Internet needs to support trillion-level, human-machine, all-time-space, safe, and intelligent connections and services. Meanwhile, innovative applications, such as 4K/8K, AR/VR, Industrial Internet, Internet of Vehicles, and Space Network, also pose new challenges, such as higher speeds & lower latency, heterogeneous access, and service-oriented resource allocation. To pave the way for the development of the Internet, this presentation first identifies the vision of society development towards 2030 and the new application scenarios for the future Internet. Then, several typical technologies would be introduced. Finally, an analysis of the development trends and challenges of each technology would be provided. We hope that this presentation can provide references and help for future network research.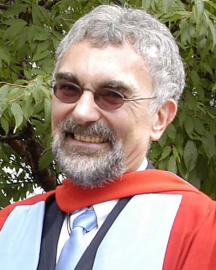 Lajos Hanzo
Fellow of the Royal Academy of Engineering (FREng), FIEEE, FIET and EURASIP Fellow
University of Southampton, UK
Lajos Hanzo is a Fellow of the Royal Academy of Engineering (FREng), FIEEE, FIET and a EURASIP Fellow, Foreign Member of the Hungarian Academy of Science. He holds honorary Doctorates from the University of Edinburgh and the Technical University of Budapest. He co-authored 19 IEEE Press - John Wiley books and 1900+ research contributions at IEEE Xplore. For further information on his research in progress and associated publications please refer to IEEE Xplore.
Speech Title: Integrated Ground, Air & Space Systems Would It Ever Work?
Abstract: Since Marconi demonstrated the feasibility of radio trans-missions, researchers have endeavoured to fulfil the dream of flawless tele-presence. At the dawn of the 5G era - are we there yet?
Indeed, near-capacity operation at a vanishingly low error-rate is feasible, but at what price? In areas of high traffic-density a high area spectral efficiency is achieved by reducing the cell-size, but how do we cover the tele-traffic hotspots - such as cruise ships - in the middle of the ocean or the planes above them moving at an extremely high velocity?
As a promising system-architecture, an integrated terrestrial, UAV-aided, airplane-assisted as well as satellite-based global coverage-solution and its enabling techniques will be highlighted as a further step towards seamless next-generation service provision, touching upon the following
aspects:
1. All the above-mentioned links have different propagation properties and bandwidths at their respective carrier frequencies, hence requiring different enabling techniques.
2. An open scientific challenge is that of striking the most appropriate trade-off amongst the conflicting performance metrics of throughput, transmit power, latency, error probability etc which requires sophisticated multi-component system optimization for finding the Pareto-front of all optimal solutions.
3. Naturally, even if the scientific solutions can be found, substantial regulatory, operational, APEX and CAPEX challenges have to be tackled to achieve these ambitious goals.